TV Repeater
Request
If you want to order free TV repeater calculation for your region, please, fill the questionnaire (click button "request") and our specialists will help you to estimate the necessity and calculate the parameters of such station depending on your current subscribers capacity, number of carriers, distances, etc.
A repeater is designed to re-translate input signal without any changes. It allows covering nLOS area without building a new Head-End and dramatically extending the service zone. A repeater is fully compliant with our links. Thus, it makes it easy to reach remote areas in the most efficient way.
TV repeater communication scheme: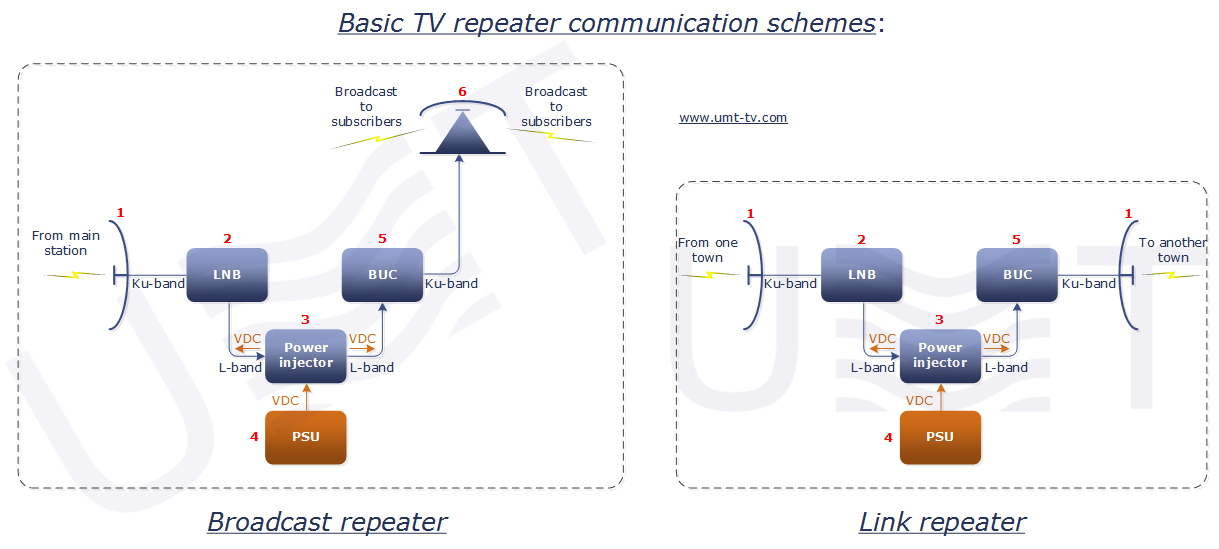 On the diagram shown previously you may see the main principle of TV repeater building.
The TV repeater can be manufactured as either broadcast repeater or link repeater. Both variants include same elements with the exception of transmitting antenna. Broadcast repeater has omni-directional antenna; link repeater has directed or sector antenna.
1) Antenna on receiving side. Typically used directed antennas. We have omni-directional (360° radiation pattern), sector and directed antennas (by our own development) in stock.
2) LNB (low noise block) – it is used for frequency conversion from Ku/K/Ka/etc. band into L-band.
3) Power injector – required for both passing the RF-signal and supply voltage to BUC or LNB.
4) PSU (power supply unit) – required to supply power the Power injector.
5) BUC (block up converter) – required for transforming L-band signal into Ku/K/Ka/etc. band. Our BUC also has AGC function – it is very important for stable broadcasting.
6) Antenna on transmitting side. Typically used omni-directional (for 360° broadcasting), but also applied sector type (to cover special area).
The required BUC power for covering exact distance, reachable distance depending on exact BUC power, calculate directed parabolic antenna gain at receiving and transmitting sides can be calculated using our own link budget calculator.
Of course other are a lot of other additional cable, waveguide and other associated equipment needed for each head-end, TV link and TV repeater stations. We have all the list of needed equipment and we're ready to help you to make a right choice and discuss all unintelligible moments.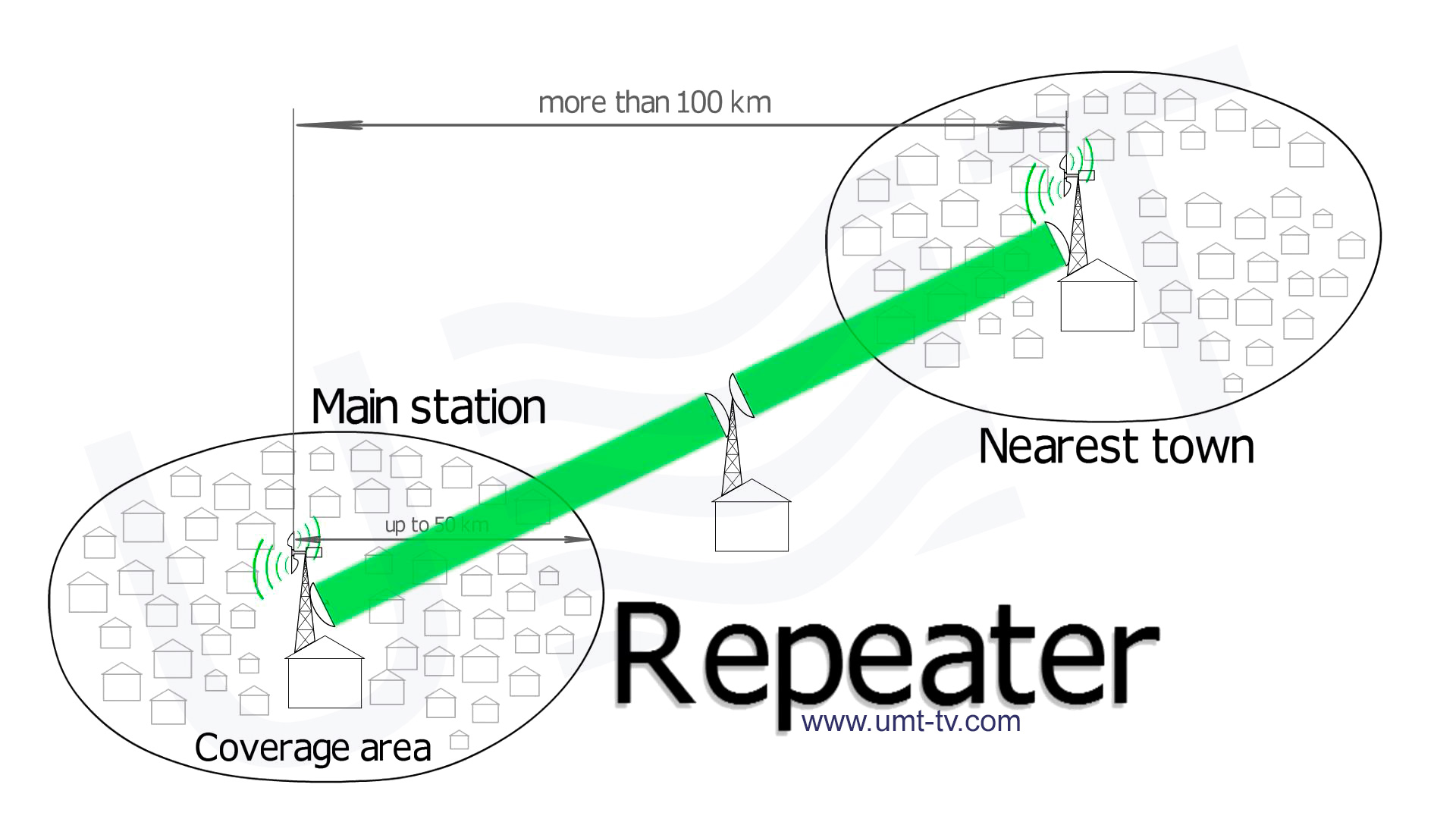 Characteristics
Parameters
Value
Type
Link or Broadcasting
Frequency range, GHz
from 1 to 40
Standards
DVB-S/S2/C/T/T2
Number of carriers
1 to 25 with equalizing (optional)
Repeat mode
without processing or with regeneration
Alternation
by frequency (Rx and Tx)
by polarization (Rx and Tx)
Built scheme
individual
Monitoring and management
remote (optional)